How do I use Brave Talk? Follow
Brave Talk is a new privacy-focused video conferencing feature built directly into the Brave browser, powered by the Jitsi as a Service open source video meeting platform from 8×8. Brave Talk enables video calls without sacrificing privacy.
Who can use Brave Talk?
All Brave users can use Brave Talk for free 1 on 1 calls with unlimited call times and built-in features such as group watch and Youtube live streaming.
For users who wish to host calls with three or more people, Brave offers a Premium version of Talk for $7/Month, which provides additional features such as call recordings, hosting tools like participant muting and passcodes, and more for calls with hundreds of participants.
At this time, the iOS and Android versions of Brave Talk currently feature Brave Talk Premium, with a free version to be implemented shortly. Note that you must have Brave Rewards enabled in order to use Brave Talk's free version.
How do I start a call?
In the desktop browser, Brave Talk can be launched any time from your new tab page by simply clicking the "camera" icon to start Talk :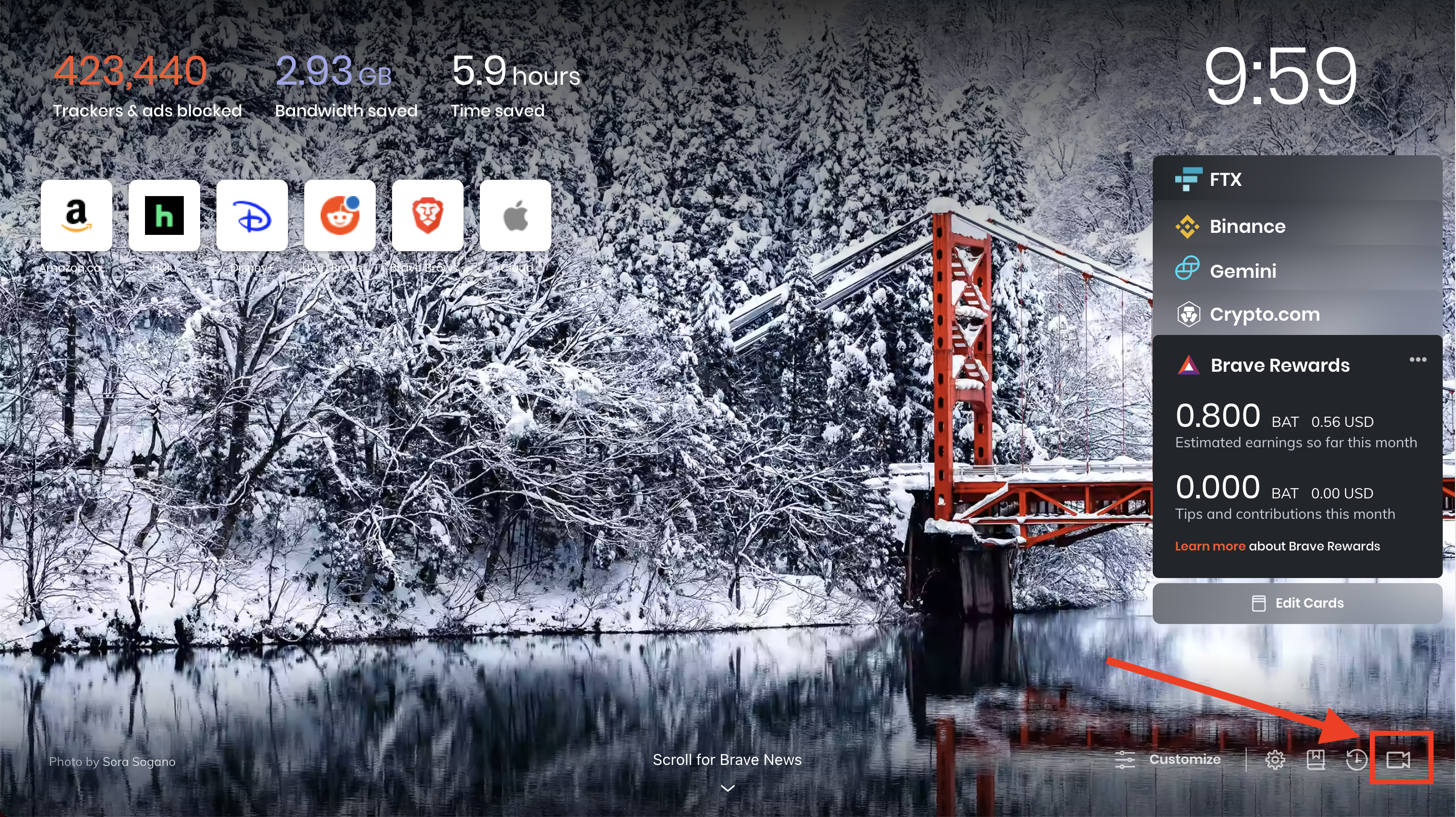 💡 Alternatively, you can go to talk.brave.com directly
Note that while calls using Brave Talk must be initiated in Brave, users can join a call from any modern browser. To invite others to join your call, simply copy the unique link in the address bar and share it with whomever you'd like to invite to the call. If you're using the Premium version, you can also send an invitation with the call details.

What features does Brave Talk offer?
Most features of Talk can be found on the control bar at the bottom of the screen: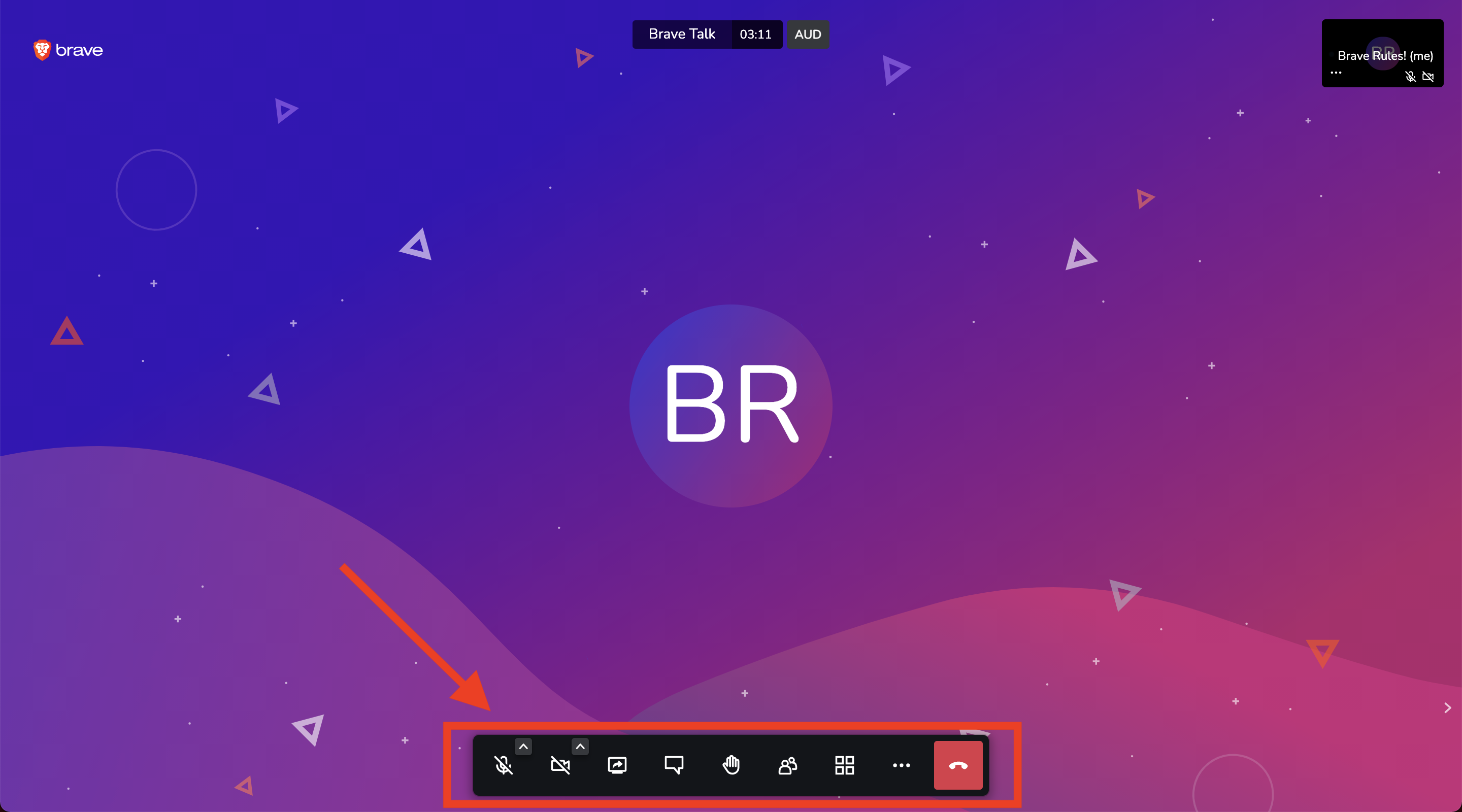 The controls seen here are as follows (from left to right):
Mute - Mutes or unmutes your microphone audio during the call. Clicking the "up" arrow in the corner of the mute button displays additional microphone options.
Camera - Toggles your camera on/off during the call. Clicking the "up" arrow in the corner of the camera button allows you to swap between the different cameras on your device (if available).
Share Screen - Allows you to start or stop screen sharing from your device.
Chat - Opens or closes the on-screen chat window. Messages can be sent and received during the call in the chat window and are retained until the call is ended, even if the chat window is closed.
Raise Hand - Allows you get the attention of other users on the call without having to interrupt the current speaker. Clicking this button will display a "hand" icon in your Talk window until you click the button again.
Participants - Displays a side panel with all users currently on the call.
Toggle Tile View - Swaps between the different panels/user tiles you're currently viewing.
Clicking the Advanced Actions button opens a new menu with additional options and settings. Note that there are additional options available to the Call owner than there are for participants of the call.
Advanced actions for call participants :
Manage Video Quality - Adjust the display quality of the video call.
View full screen - Enable/disable full screen mode for the call.
Start subtitles - Enables/disables subtitles for the call.
Share video - Allows users to share an embedded Youtube video for all participants to view directly in the call window. Note that when a video is being shared, returning to this same menu option now shows Stop video which you can use to close and stop the embedded video from playing.'
Share audio - Allows you to play audio content for all participants in the call from your device, a particular app/window or an open tab in Brave.
Select Background - Change the background displayed in your video tile.
Show speaker stats - Shows the ping of all participants in the call.
Settings - Opens panel to adjust additional settings (see below).
View Shortcuts - Displays list of available shortcuts one can use during the call.
Leave meeting - Disconnect from the call.

Additional options for Call owner:
Security options - Adjust specific security settings for the call, including:

Enable Lobby - "Lobby mode" lets you protect your meeting by only allowing people to enter after a formal approval by a moderator.
Set Passcode - Allows you to add a passcode to your meeting that participants will need to provide before they are allowed to join the meeting.
Enable Video Bridge Encryption (experimental) - When enabled, your browser exchanges keys with other call participants, and these keys are used to encrypt the video and audio streams. Only people with keys can see your calls. Assuming no malevolence, neither Brave nor its partner, 8x8, have this key by default.

Start recording - Allows you to start/stop recording both audio and video from the call for later viewing.
Start live stream - Allows you to connect to Youtube live stream to interact with your audience in real time using the video feed and chat.
Mute everyone - Mutes all call participants.
Disable everyone's camera - Disables all call participant's cameras.
Additional Settings
Devices - Allows you to select which microphone and camera you want to use for the call, as well as where audio from the call will output.
Profile - Change your display name, as well as set your gravatar email.
Sounds - Choose whether specific sounds in Talk will play.
More - Adjust additional settings such as


Enable/disable pre-meeting screen
Enable/disable keyboard shortcuts
Choose display language
Set desktop sharing frame rate
Moderator controls to choose if

Everyone starts muted
Everyone starts hidden (camera off)
Everyone follows moderator