What is "Brave Search"?
Brave Search and the Brave browser constitute the industry's first independent, privacy-preserving alternative to Google Chrome and Google Search, which rely on tracking users across sites and have 70 percent and 92 percent market share, respectively.
How do I set Brave Search as my default Search engine?
Desktop browsers
To set Brave as your default search engine on Desktop devices:
Right-click in the address bar, and select Manage search engines

Find Brave Search under Other search engines, and click the ⋮ (vertical ellipsis) beside it.

Select Make default


Brave will appear in the list of default search engines, with (Default) beside it.


You should now be able to search directly from the address bar of your browser.
If you don't see Brave Search in your list:
If you don't see Brave Search as a default option, you'll first need to click the Add button next to Other search engines.

In the popup that appears, enter the following:

Search engine: Brave Search
Keyword: Brave
URL with % in place of query: https://search.brave.com/search?q=%s

Press the Return or Enter key on your keyboard. Brave Search will appear in the list of default options.

If needed, refer back to step 2 above to set Brave Search as default.
Mobile browsers
To set Brave as your default search engine on Android devices:
Tap the Menu button in the toolbar.
Go to Settings --> Search Engines
Tap Standard Tab

Select Brave from the list

You should now be able to search directly from the address bar of your browser.
To set Brave as your default search engine on iOS devices:
Tap the Main menu button.
Go to Settings --> Search Engines
Tap Standard Tab.
Select Brave Search
You should now be able to search directly from the address bar of your browser.
What makes Brave Search different than other search engines?
The Brave browser provides the stringent protections users demand, and Brave Search follows those same principles:
Brave Search is

private

: it does not track or profile users.

Brave Search is

user-first

: Brave serves the user first, not the advertising and data industries.

Brave Search offers

choice

: We will provide options for ad-free paid search and ad-supported search. We are working on bringing private ads to search, as we've done for

Brave user ads

.

Brave Search is

independent

: We will rely on anonymized contributions from the community to improve and refine Brave Search. Prior to this innovation, producing quality results could be achieved only by Big Tech companies, which took many years and tens of billions of dollars to crawl the entire Web continually.

Brave Search is

transparent

: we will not use secret methods or algorithms to bias results. We will explore

multiple community-curated open ranking models

to ensure diversity, and prevent algorithmic biases and outright censorship.

Brave Search is

seamless

: we will offer best-in-class integration between the browser and search without compromising privacy, from personalization to instant results as the user types.

Brave Search is

open

: we do not believe in walled gardens and, as such, we will offer Brave Search to power other search engines.
Can Brave Search use cookies to track me?
Brave Search only uses anonymous cookies. If you change settings in Brave Search, a cookie will be set to remember this preference, and the value this cookie takes is linked to the setting on the page. For example, if you see US-based units of measurement (pounds, feet, Fahrenheit), but would prefer metric (kilograms, meters, celsius), then a cookie called units will be set with the value metric. With Brave Search, every user will have the same cookie names and a set of cookie values. They cannot be used to identify anyone.
List of the cookies we use on Brave Search:
safesearch: Used to enforce a particular choice over whether—and how—adult content is shown in search results. It can take one of three possible values:

off: adult results are shown normally
moderate: adult results are shown, but multimedia is not
strict: adult results are removed

country: By default, we set your country as

us. If changed, a cookie with the new country code will be set.
units: These are the units of measurement for the search results (e.g. temperature or distances). They can take the following values:

us: US-based (pounds, feet, Fahrenheit)
metric: Metric (kilograms, meters, celsius)

useLocation: If you opt out of local results, this cookie will be set with value

0.
olnt: Open links in new tab. By default it's switched off and no cookie is set. If switched on, a cookie with value

1

will be set.
geoloc: If you decide to manually set the location for results, this cookie will be set with the coordinates of the chosen location. Both latitude and longitude will be truncated to 3 decimal places.
fallback: If you use Brave Search from the Brave browser, for any query where we may not return enough results, you can allow the Brave Browser to anonymously check Google for the same query. The fallback mixer will present the results together for you, and send the query result back to Brave Search so we can improve responses next time. If you opt in, this cookie will be set with value

1. Learn more about

Google fallback mixing.
Brave Search is designed to be private by default. We don't collect personal information about you, your device, or your searches. We also don't transmit information to the web that could be used to profile you, track you, or learn anything about you. Your searches are entirely private to you. Learn more.
What usage metrics is Brave Search collecting? Do I have to send them?
Usage metrics refer to information about how a user interacts with a website, and meta-information about the performance of the page itself. For Brave Search, this can include how often a user visits and how long their queries might be (though not the query itself), as well as performance items like whether content loads correctly. By enabling usage metrics, you are allowing Brave to anonymously collect and analyze this kind of information, which in turn helps us improve Brave Search for others. Note that sending anonymous usage metrics is optional and can be disabled in Search settings.
Brave Search is independent, private and, over time, will offer a more complete view of the voices on the internet. It is also new and, as such, we are still trying to learn how people interact with the site, and about the performance of the site itself. Specifically, we would hope to learn the following:
Number of daily/weekly/monthly visits
Number of returning visits
Number of search queries per day
Average query length
What percentage of queries led to a user clicking a search result
How many users have chosen to leave feedback about Brave Search
The operating systems people use when they visit (e.g. macOS, Windows, etc)
The browser you've visited from (e.g. Brave, Chrome, Safari, etc)
This data—if you allow us to collect it—is anonymous and only analyzed in aggregate. It will never identify you or the machine you've accessed from. The data tells us whether users are indicating the page is useful enough to use again and, in turn, gives us signal that we are approaching a viable alternative to other search engines.
How am I still anonymous if Brave is showing me "local" search results?
Brave does not know your location. If you'd like localized search results you can choose to filter based on your computer's IP address. Neither your IP address nor any other geographical data will be stored or shared.
Most people expect to see localized search results. For example, the search query "restaurants near me" would return a list of restaurants in the user's immediate vicinity. This is the default mode for nearly all search engines—mobile or desktop.
However, for this functionality to work the search engine must know your physical location. Search engines can use a number of methods for this, one of which is the IP address broadcast by your device.
There's nothing inherently wrong with this. The problem is that other, non-private search engines store this location data and pair it with other personal data about you—they know both who you are and where you are. And they share this personalized information with advertisers.
Brave is different. While the request in this toggle—to enable anonymous local results—would allow Brave to use the IP address your machine is already pinging to serve up the localized search results you're accustomed to seeing, it differs in three key ways:
We do not pinpoint the IP address to a physical address, but rather to a general location
Your IP is used once, for the location-based query only; it is not stored
The Brave browser is private by default, meaning we neither know nor store any identifying information about you; it is impossible for us to pair location data with other identifying information
For the best, most familiar experience possible, we recommend that you enable anonymous local results. Alternatively, you could specify location in your specific search query.
What is "Search Results Independence"?
The search results independence metric is the percentage of searches, across all result types (web, news, images, videos), that are served directly out of Brave's independent index of the web. The remaining percentage come from anonymous API calls to third parties.
This metric appears in two places:
At the top of a results page
In Brave Search settings
The metric is measured in three ways:
On the results page, in the info section, you'll find the % of results on that page that came from third-parties (in most cases, this will be zero)
In settings, the "your" metric is the % of results that came from Brave's index, aggregated from all of your searches
In settings, the "global" metric is the % of results that came from Brave's index, anonymously aggregated from all searches, across all people who use Brave Search
How exactly are the personal/global metrics calculated?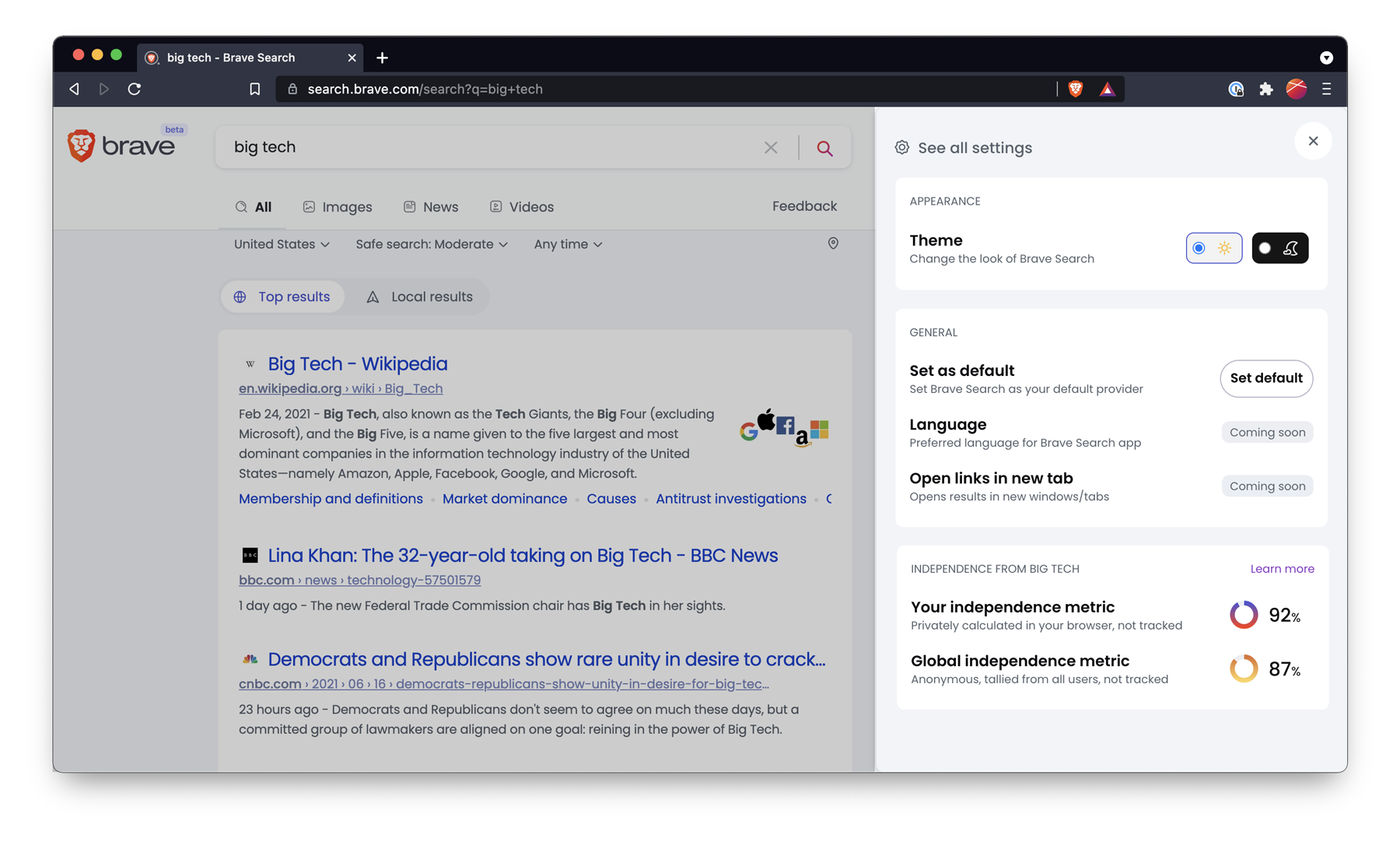 In the example screenshot above, 92% of query results were served out of the Brave index. By results we mean URLs, text snippets, rich-headers, maps, infoboxes, images, etc. In this case the remaining 8% were fetched anonymously from third parties—namely Google and Bing—and mixed in your browser to maintain privacy.
The global results independence is the same measurement, but an aggregate of all results served on Brave Search. This is calculated on Brave servers, and totally anonymous. Brave Search does not have the formal concept of a "user", so there's no way we could associate specific queries, or even this independence metric, with any individual.
Why does Brave do this mixing?
Brave is fully capable of answering 99% of queries completely on its own. This check against third-parties is not due to lack of completeness. Rather, it's that for certain queries or result types (e.g. images) we may not be completely confident in our results to be at the level of quality you'd expect. In these cases, we rely on third-parties strictly as a means to an end: To ensure private results, served largely from an independent index, and a quality and nuance equal to that of other, older indexes. The results independence % will increase as Brave search improves, and as more people switch to Brave search.
What does independence mean to Brave?
Information is power, and Google has a near-monopoly on it. The information billions of people look up is being served by a non-elected, profit-seeking monopoly. In many ways, they decide what is true.
We need independent search engines, which have their own way of surfacing information and searching the web. Most supposedly "neutral" or "private" engines in fact could not offer search results without Google or Bing. Immediately. Not so with Brave. We need real competition and choice—we need more independent search engines. This is Brave Search:
Independent. Brave Search uses its own, built-from-scratch index. Prior to Brave Search, producing quality results could be achieved only by big tech companies, which took many years and tens of billions of dollars to continually crawl the entire web.
Transparent. Brave Search uses anonymous community contributions to refine, and community-created alternative ranking models to ensure diversity, and combat bias and implicit echo chambers.
User-first. Brave Search delivers quality, transparency, and a commitment to breaking the hold a handful of tech giants have over the way we discover, share, and publish information online.
Fully private. No profiles.
Brave Search doesn't track you or your queries. Ever. It's impossible for us to share, sell, or lose your data, because we don't collect it in the first place. We leverage your browser to store information on how our search engine is helping answer your queries independently.
In the tipping panel, verified websites are marked with a blue checkmark, and will show text that reads "Brave Verified Publisher". The tipping panel can be accessed by pressing the BAT logo in the URL bar.
What are "Featured Snippets"?
Brave Search results are not limited to a list of web pages matching the search query. In addition to a webpage address, page title, and page description, our results will often provide richer information in a slightly different format, called "featured snippets." These may include locations, lists, direct answers, expanded descriptions and more.
These snippets are based on the content of the pages in our index, which is generated by regular crawling and indexing. This content does not belong to Brave, and we are not liable for its accuracy or trustworthiness. Send us feedback if you notice content or snippet-formatting that's worth reporting.
Please know that Brave respects content attribution, and we are aware that good snippets may lead to traffic deprivation (i.e. less click-through) to the sites providing the content. We need to weigh this against user expectations of having used other search engines that provide information this way—omitting featured snippets would be detrimental to the user experience. We are conflicted about this issue of traffic loss, and hope to devise a Brave solution to this conundrum soon.
What is "Google Fallback Mixing"?
Brave Search is still refining its index. For any query where we may not return enough results, you can allow the Brave browser to anonymously check Google for the same query. This feature—the Google fallback mixer—presents the results together for you, and sends the query results back to Brave Search so we can improve responses next time.
Due to the ubiquity of some other search engines, most users will be accustomed to seeing search results presented in a specific way. This includes result sets, ranking order, ad placement, content snippets, mapping functionality, peer-ratings, and more. As Brave launches its private, independent search engine, we must still meet user expectations.
However, given the newness of the Brave Search index and its ranking algorithm, our results may not yet be refined enough for all queries. (Especially for less common or "long-tail" queries). To counter this, Brave Search gives you the option to let your browser anonymously check Google when our results need more depth. The result sets are mixed in your browser, and sent back to us for analysis so we can learn what types of queries need more work.
Note that choosing this option has no effect on your privacy. If you happen to have a Google account, Google will not be able to associate your query with this account. And Brave does not keep your queries in any shape or form.
Brave's goal is to reduce the reach of other search engines. In this case, the fallback mixer is simply a short-term means to an end. It allows us to create a product that competes, not just on philosophy, but on the speed, accuracy, nuance, and completeness that users expect. In a short time our search results will actually surpass other engines, both by combatting their ranking algorithm bias, and by indexing a more complete set of the pages on the Web worth reading.