How to disconnect your verified wallet Follow
Instructions
Go into your Brave Rewards settings page at brave://rewards or your Brave Rewards dropdown panel, and press on the "Wallet verified" button in the top left corner.
In the dropdown menu that appears, select "Disconnect from Brave Rewards".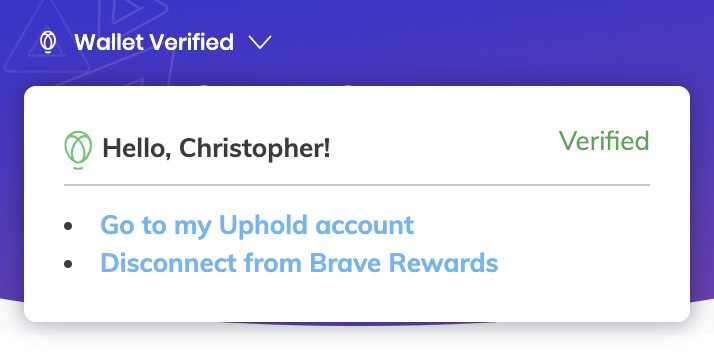 Once you're disconnected, your browser should return to being unverified. You should see a "Verify wallet" button in Brave Rewards, and your browser will behave like it did before you verified.
How many times may I disconnect and re-verify?
You may disconnect and re-verify as many times as you wish. Don't worry: if you disconnect and then reverify, you won't consume an additional linking slot.
Note: You cannot link 2 or more different accounts from the same custodian to a single browser instance. For example, you cannot have 2 accounts with Uphold, verify with one of them, disconnect, and then verify with your second account. You can only ever have one Uphold account associated with a browser instance or user profile.
Error when disconnecting
If you tried to disconnect and saw an error message, you can try again later. We recommend checking your internet connection and any network devices (such as VPNs, firewalls, filters, etc.) that might be interfering with the disconnect process.
If disconnecting was unsuccessful, this is what you should see:
Your Brave Rewards wallet should remain verified, and you should continue to see "Wallet Verified"
You will still be considered verified in Brave's systems until the disconnection is successful and you see the option to verify your wallet again.
Where did my BAT go when I disconnected?
When you disconnect your Brave Rewards wallet, your browser is no longer connected to your custodial exchange account (e.g., Gemini, Uphold, or bitFlyer account). As a result, your browser is no longer synced up to your BAT balance in your custodial exchange account. However, your BAT still remains in your custodial exchange account's balance.