How do I Customize Top Sites on the New Tab Page? Follow
The top sites tiles on the New Tab Page Dashboard offer quick access from any new tab to your favorite or most frequently visited websites. You can toggle between these two options by clicking on the Customize --> Top Sites option at the bottom of the new tab page or via the drop-down menu on the widget itself:
Frequently Visited
This is the default setting for top site tiles (shown as selected in the image above). Brave will populate each of up to six tile with your frequently visited sites as you browse. If there are already six tiles populated, Brave will swap these sites out when a new site becomes more frequently visited (ie, you've been to the site more times) than a site already populating a tile.
Favorites
When the Favorites option is selected, the top sites widget will expand to include an additional row, allowing up to twelve sites to be added. Here, you can add and remove any sites you'd like to the tiles. Note that when, first selected, Brave will insert Frequently Visited sites into your Favorites list automatically, even though each option holds its own list of sites (more on this below):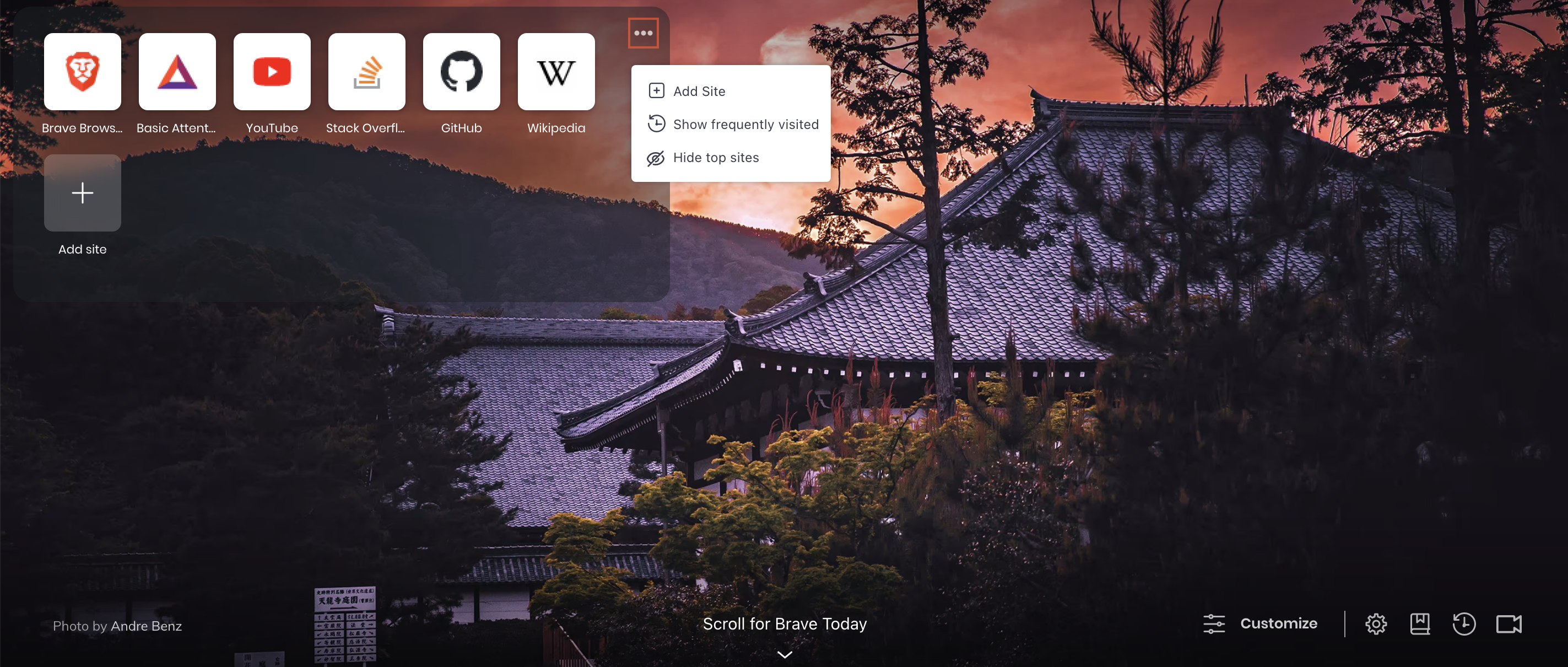 Organize and Edit Top Site Tiles
Top site tiles can be edited at any time and can be moved to a new position anywhere on the tile grid. Note that each view (Frequently Visited and Favorites) holds its own list of sites, such that editing (adding/removing) a site in one view will not affect the other. For example, if you have the same site listed in both Frequently Visited and Favorites, removing that site in one view will not remove it from the other.
Adding a Site
To manually add a new top site to the grid, you can use the drop-down menu located on the widget and select Add Site or simply click on an empty tile:
In the resulting Add/Edit window, you can give the tile a custom name and enter the URL for the site you'd like to add. After naming the tile and entering the appropriate URL, click Save and your new tile will appear on the grid. Below, I've added Uphold to my list of top sites:


Removing and changing tile data
If you would like to change the site name or URL on an existing tile, or if you would like to remove an existing tile altogether, hover your mouse over the desired tile and click the "pencil" icon. From here, select Edit Site to edit data or Remove to delete the tile:

Rearranging Tiles
Once you have curated top site tiles to your liking, you can reorder the tiles at anytime by simply dragging and dropping the tile to the desired position on the grid: