Switch to Brave from Firefox Follow
This guide is to help you get acquainted with Brave and highlight any notable differences between us and Mozilla Firefox for a smoother transition.
Import Firefox settings
Once Brave is installed, you have the option to import most data from your Firefox browsing profile if desired. Note that you will still need to have Firefox installed/your profile data intact in order to import into Brave.
To import your Firefox data:
In Brave, go to Menu --> Bookmarks --> Import bookmarks and Settings
Select Mozilla Firefox from the dropdown menu – note that if you have multiple profiles, you will need to specify which one you'd like to import.

Toggle on/off which data to import in the check boxes, then click Import when ready.
For more detailed information importing data from Firefox or other browsers, please see How do I Import or Export browsing data? on our Help Center.
Extensions
As Brave leverages the Chromium engine, it is compatible with almost any extension that works with Chrome. Note that at this time Firefox Add-ons are not compatible with Brave.
To install extensions, simply visit the Chrome web store, find the desired extension and click Add to Brave:


Extensions will appear on the top-right of the browser. You can pin/hide extensions in the "extension toolbar menu" – the puzzle-piece icon next to your extensions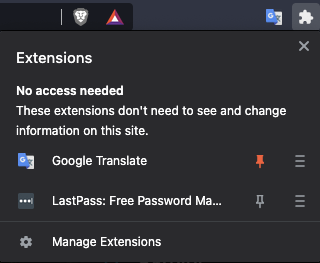 Note that many popular Firefox Add-ons are also available in the Chrome web store and compatible with Brave, including:
Brave Values Privacy
Your privacy is a top priority at Brave. While we do leverage the Chromium engine, we also go out of our way to ensure that your data does not get sent to Google or any other source without your express permission to do so. For detailed information on what code we strip, changes we make, connections we proxy and other steps we take, please see Deviations from Chromium.
Protections
In Firefox, site protections were managed from the "Tracking protection" menu in the address bar. In Brave you will manage these settings (and more) from the Shields panel: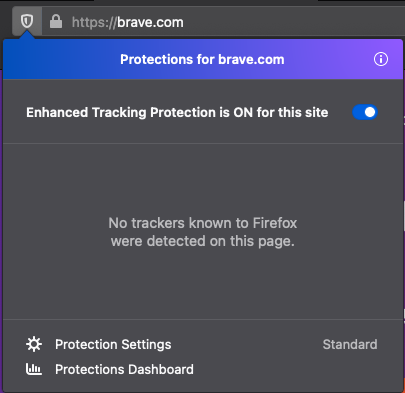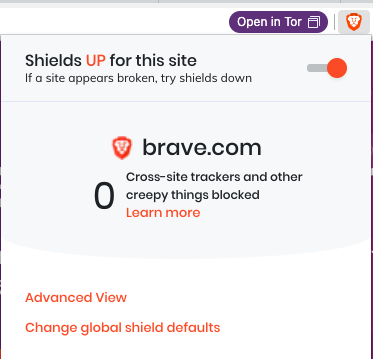 Please see the following documentation for full details on Shields and how it to manage your protection settings:
New Tab Page
Firefox top sites appear on the New tab page by default:

Brave also shows top sites on the New Tab Page, shifted to the top-left. In addition, you can view the amount of ads/trackers blocked as well as other browsing statistics, view Rewards information at a glance, and more. You can also customize which of these New Tab Page widgets display on the page by using the Customize option: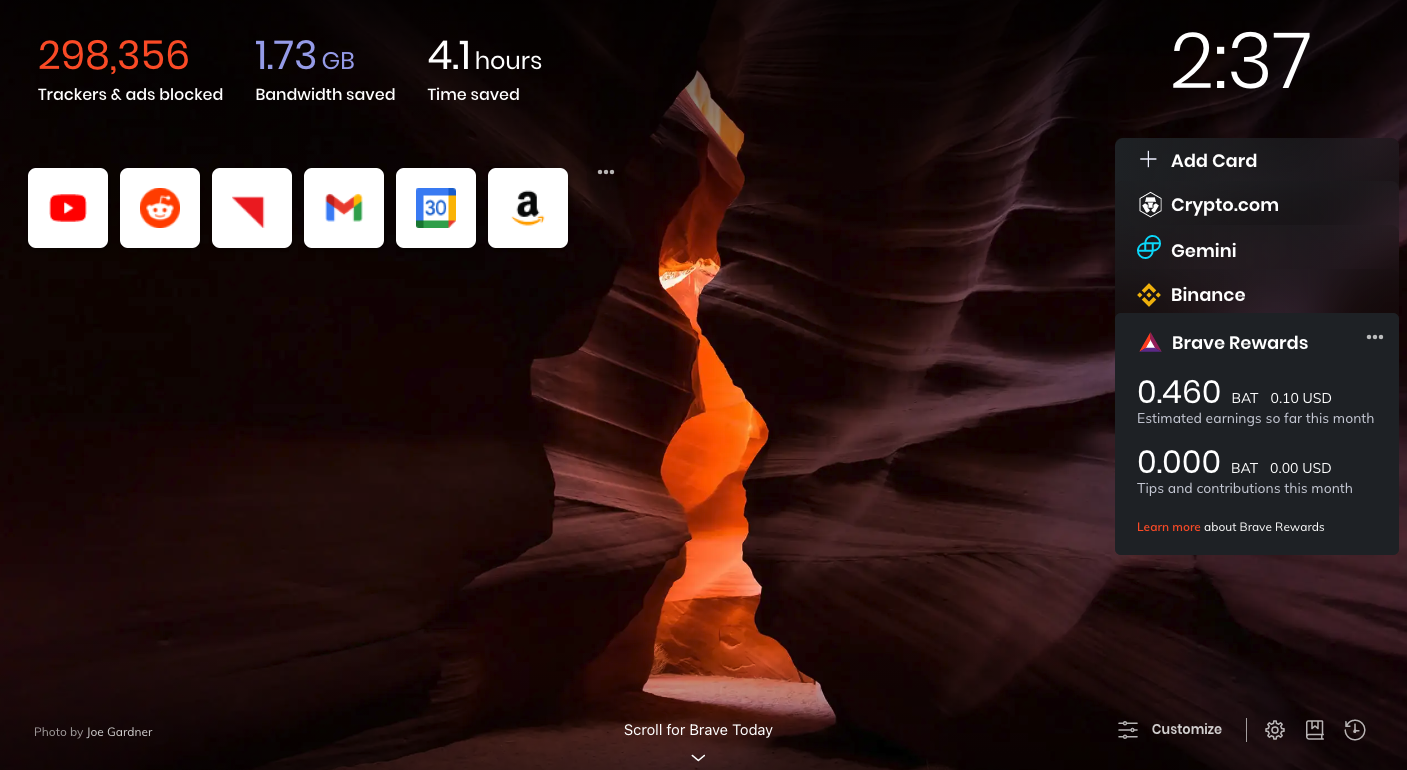 Additionally, where Firefox offers recommended news from Pocket, Brave has it's own news section titled Brave Today which recommends relevant news/articles based on your browsing activity (note that this is all done anonymously and without tracking or identifying any individual users). Simply scroll down on the New Tab Page to view Brave Today news suggestions: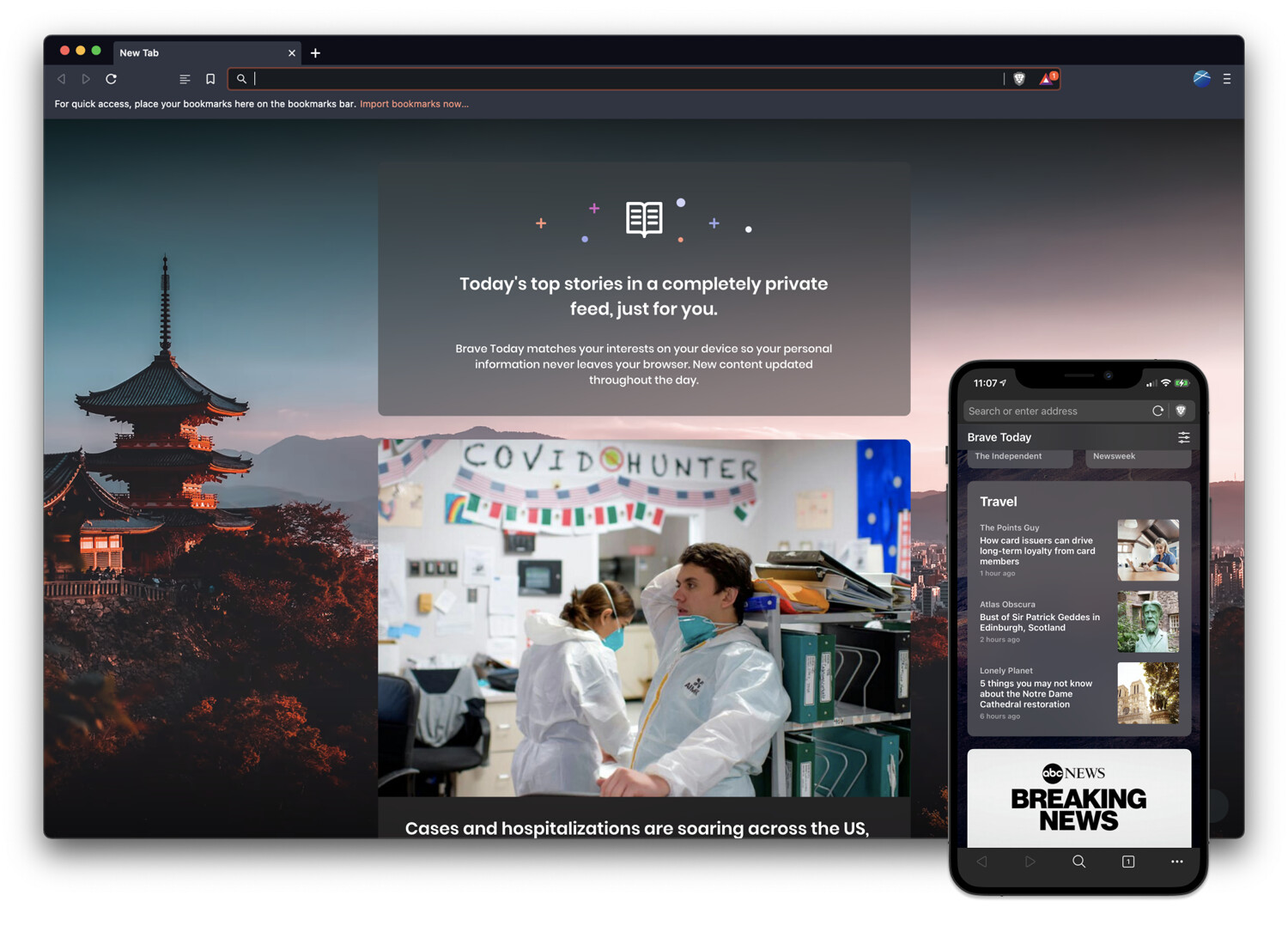 Sync
Brave offers users the ability to Sync browsing data across devices. However, unlike FireFox or other browsers, Brave Sync is completely anonymous and does not require an account or sign in of any kind. To get started with Brave Sync, please see the following documentation: