Managing your Creators Account Follow
You can manage various settings on your Creators account such as account deletion, email subscription, and contact information from the Account Settings page.
How to Delete Your Brave Creators Account
You can delete your Brave Creators account and any related data at any time via the Creators dashboard.
To delete your account, follow these steps:
Login to creators.brave.com

Click the padlock icon in the upper right corner of the screen and select "Settings". This will take you to the

Account Settings

page.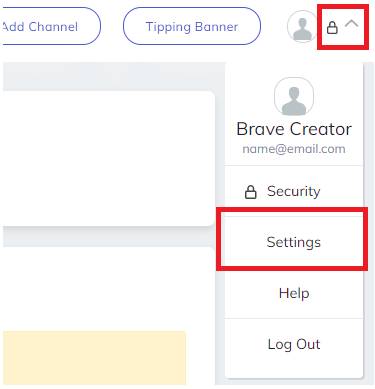 Under the "Account Deletion" section, select the "Delete My Account" button.

You will be asked to confirm the process. Keep in mind that any pending BAT balances tied to your Creators account will be permanently lost if you decide to delete your account.

If there is unsettled BAT, your email will be mapped to that account for a year. If there is no BAT to settle, all of your account information will be deleted immediately.
How to Change your Subscription Settings for Brave/BAT Marketing Emails
When signing up for Creators, you can decide whether to opt-in to Brave marketing emails. If you change your mind later, you can adjust these settings from the Account Settings screen when logged into Creators by ticking or unticking the box here:

An Important Note on Transactional Emails
We, at Brave, have the obligation to inform you about changes to your account and information about changes to Brave's terms of services and other notifications. The only way to opt out of this information is to delete your account.
How to Change your Contact Information
Lastly, you can also change the name and email address tied to your Creators account from the Account Settings page. Make sure you're logged in, and click "Edit Contact" under the Contact section. Click "Save" when you are finished.