What is a verified Brave Rewards profile? How do I verify my Brave Rewards profile? Follow
Verifying your Brave Rewards profile means connecting your Brave Rewards profile to a custodial account.
💡 What is a "custodian" or "custodial account provider"? A custodian is a company that holds your BAT for you. This includes crypto exchanges like Gemini or bitFlyer, and services like Uphold.
Connecting your Brave Rewards profile to a custodial account allows you to:
Withdraw any BAT you have in your Brave Rewards balance
Add BAT into your Brave Rewards balance
Send tips and contributions directly from your custodial account to creators
What happens when I connect my Brave Rewards profile with a custodial account?
When you verify your Brave Rewards profile, your Brave Rewards balance becomes the BAT balance in your custodial account. (For example, if you have 255 BAT in your Gemini account, then if you verify Brave Rewards with a Gemini account, then you will see that 255 BAT in your Brave Rewards balance.) That means you can deposit additional BAT into your custodial account, and then use that BAT in the Brave Rewards ecosystem (for example, to tip). It also means that when you send a tip to a creator, the BAT is being sent directly from your custodial account to the creator's custodial account.
List of custodial partners
Brave is currently partnered with three different custodial account providers:
Support for verifying your Brave Rewards profile varies by custodian and region. You can find a list of supported regions for each custodian in this support article.
How to verify your Brave Rewards profile
In Brave, open your Rewards panel by pressing the triangular BAT icon in the URL bar, or go to Settings > Brave Rewards and click the "Unverified" button: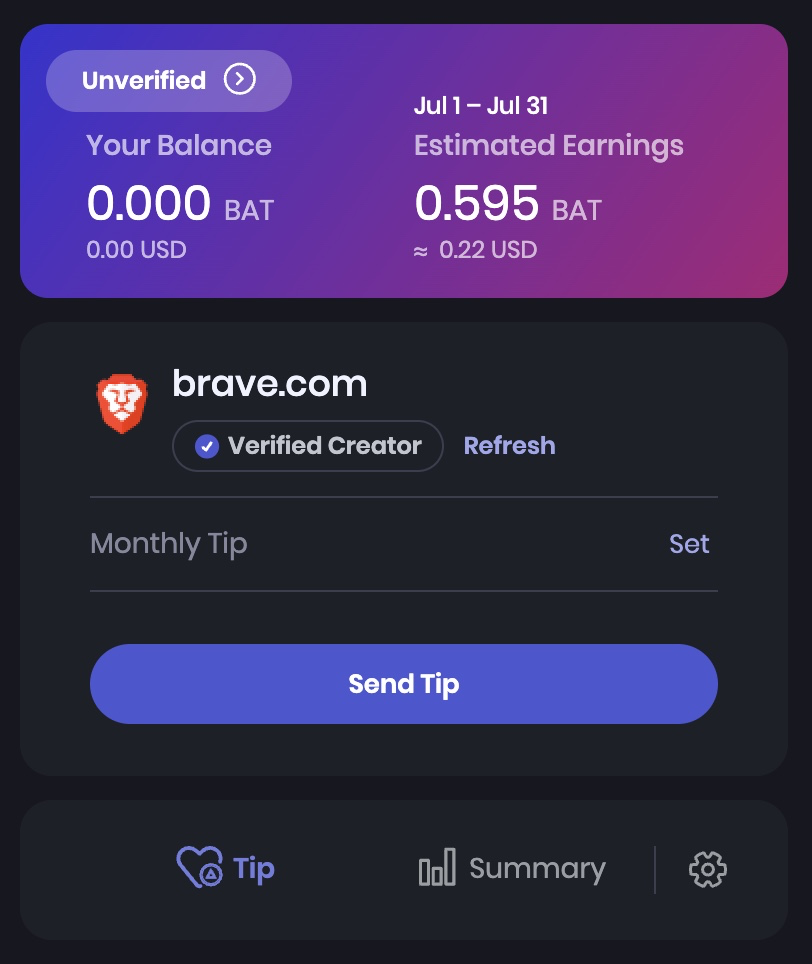 Then, select which custodial service you'd like to use.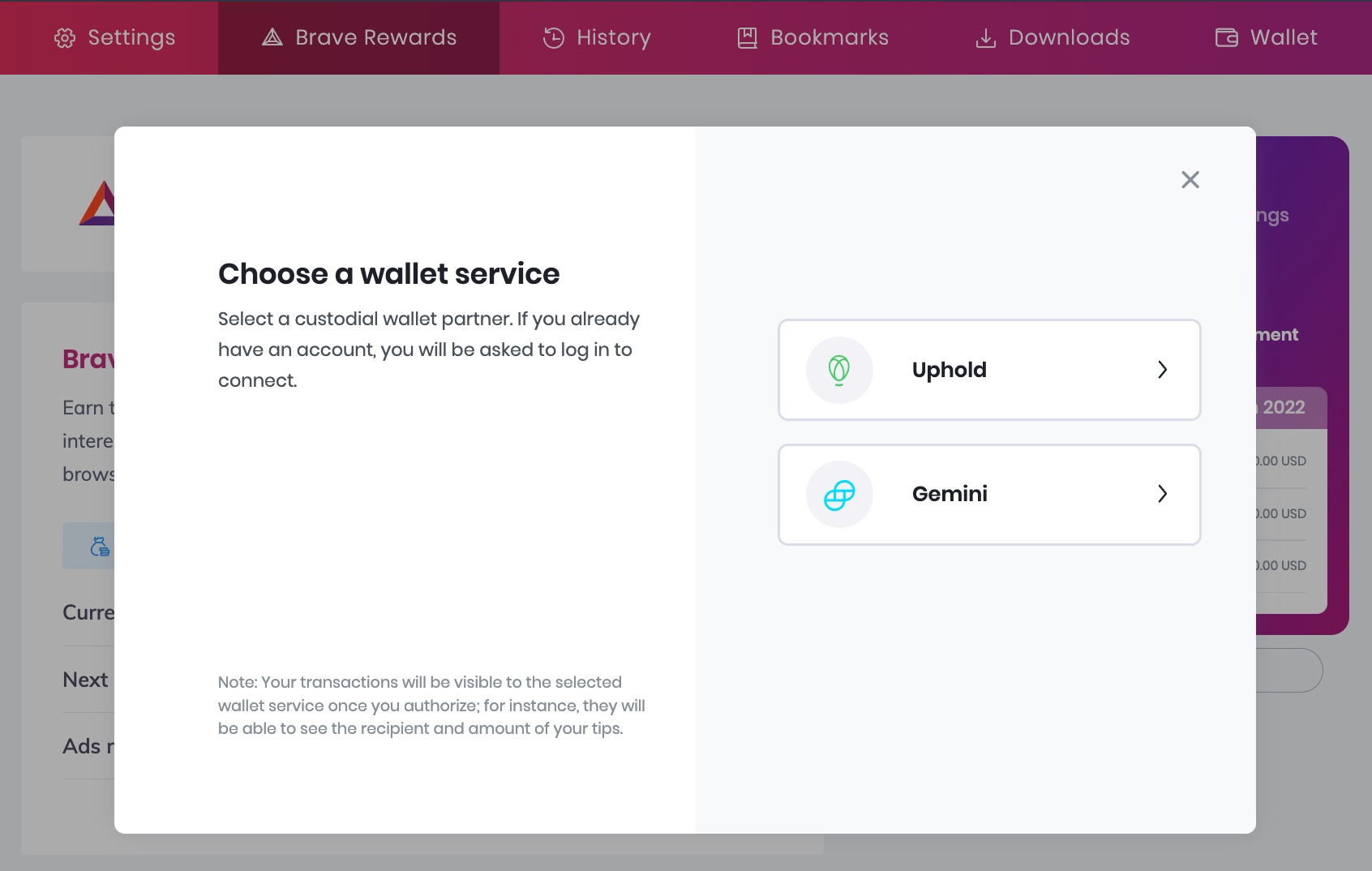 Follow the steps to sign up with the custodian (or log in if you already have an account at that custodian).
Note: Make sure your account with the custodian is "verified" (i.e., that you have completed ID verification with the custodian).
You will be asked to authorize your Brave Browser with your custodial account. Once you authorize the Brave Browser, you should see "Verified" in the top left of the Rewards panel.
Withdrawing funds
When you first verify your Brave Rewards with a custodial account, any existing BAT in your browser will be transferred over to your custodial account. For example, if you had 14 BAT in your browser prior to verifying, then after you've successfully verified and linked a custodial account to your browser, you should see that 14 BAT automatically appear inside your custodial account's BAT balance. (Please allow up to 30 minutes for your BAT to appear in your custodial account.)
What can I do with the BAT once it's in my custodial account?
Once the BAT is inside your custodial account, you can exchange it or withdraw it to an external Ethereum address as you would any other balance in your custodial or crypto exchange account.
Limitations
You cannot link 2 or more different accounts from the same custodian to a single Brave Rewards profile.