How do I configure global and site-specific Shields settings? Follow
Shields protects you from tracking on the web but can sometimes cause sites to break. If your general Shields settings break a site, you can use the Shields panel to turn Shields off for that site, or make custom choices about what Shields should block.
Configure global Shields settings
To locate your Global Shields Settings,
Open the Main Menu

Click

Settings
Scroll to the Shields section


These settings are applied to all websites you visit. If you want to change your protection settings for a specific site, use the Shields panel found in the address bar. Additionally, you have the option to hide or display the number of blocked items on the Shields icon while browsing. You may also toggle the option to block automatic redirects to Google AMP pages on/off. With this option on, you will always view the original page URL of the site, rather than the "Accelerated Mobile Page" version of the site.
Configure site-specific Shields settings
To locate site-specific Shields settings,
Visit any website in Brave

Click the Lion icon on the right side of the address bar to reveal the Shields drop-down panel
Should I use Simple or Advanced view?
The Simple view is available for those who are new to online privacy /security; It is designed to help users learn more about the content being blocked and why it's being blocked. In simple view, the panel is "read-only" - there are no controls available to change any specific Shields settings on the site. Note that you can still toggle Shields Up/Down in this view.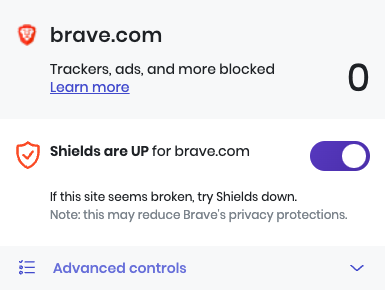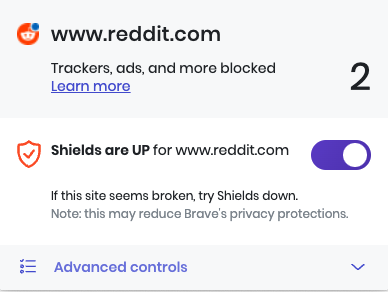 In the Advanced view (accessed by clicking the Advanced controls button at the bottom of the panel) users can access and modify all individual Shields settings for the site they're browsing directly from the panel. The Advanced view is for users who feel comfortable configuring Shields on their own as they see fit and is discussed in further detail below.
The settings here are the same as the global Shields section in settings. Unless you've made changes for this site already, these settings will match your global Shields settings. Note that the domain name of the site appears at the top of the panel — Brave and Reddit in this example.
When you change settings in the Shields panel, the changes are only applied to the current site in focus. When you visit a website for the first time, your Shields panel settings will default to what your Global Shields values are set to.
If you change settings for a particular site, Shields will remember your choices, even if you change the global Shields settings.